Richter REVOstone is a natural stone surface obtained from quarries around the world and is split from real slate. Different geographical locations result in different the colors. The raw split surface of the slate and the interchanging colors of each stone layer are absolutely unique and a stimulation for the senses. Color and surface variations are quite normal and do not constitute a fault. Natural slate has a content of minerals and metal oxidants which are not visible underneath the surface. Pressure can cause fractures. These fractures are also quite normal and do not constitute a fault. Some quarries contain a high degree of quartz combined with the slate bedrock. We use the soft rock from various quarries and from these quarries we derive our Stone-Veneer® Quartzite With different quarries having this quartz content with layers of silicate there are different color hues as seen in the Quartzite products, all with a natural glimmer and shine. It also requires a high degree of skill and additional "hands-on" labor to split. The natural structure of the Quartzite slate also gives it a rougher surface than slate.
All of these slate products are as natural as nature created millions of years ago. RICHTER does not create or add to any of the texture, coloration, and pigmentation. This is why every piece is different in stratus, three dimensional accentuation and feel, graining and variances of color hues. Do not expect to "sequence" or match any two pieces for applications. Just as nature grows no two flowers alike there is no duplication of slate. Each piece has its own natural and individual beauty.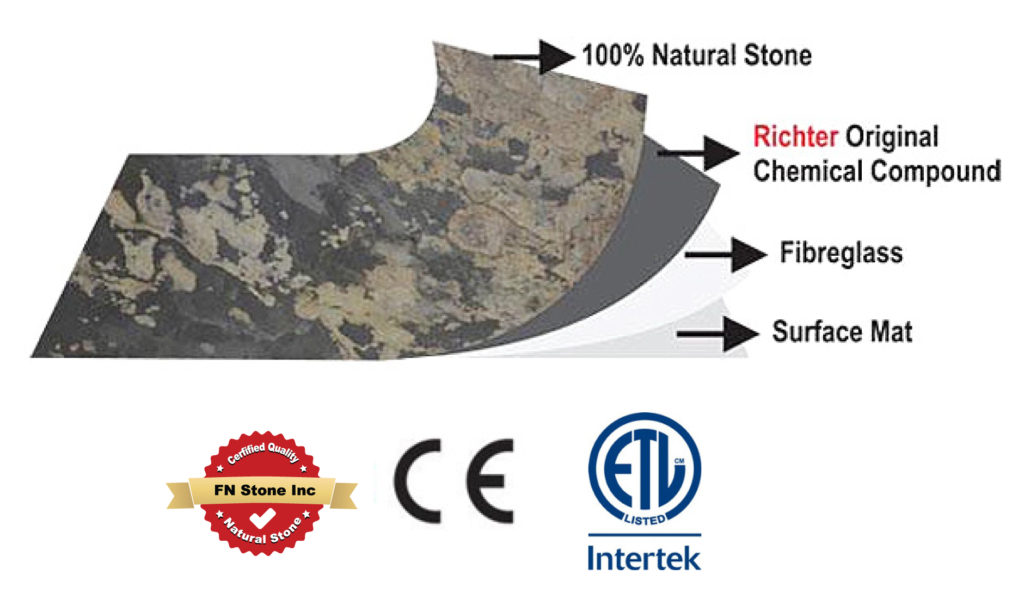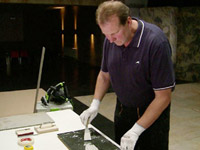 The actual substrate it is to be applied to is almost unlimited. All wood and lightweight materials are suitable. If the Richter REVOslate is only applied on one side of a carrier material, it is important to have a counter balance on the other side for stability. Mechanically mounted panels which have the Richter REVOslate on one side, need a craft paper or foil backing of at least 150 g / m2 (3.6128 pound/cubic inch). If applied as floor or wall panels, different climate conditions have to be taken into consideration.
For any substrate you use there are a few standard guidelines to follow:
The two products to be adhered together must be clean of dust, debris, grease and oils.
Use a suitable adhesive for your substrate.We recommend Mapei S997 1K adhesive.

The Richter REVOslate adhesive requirements vary with the factory backing used on the veneer.
Polyester backed (standard backing) and Fleece backed (optional) can be adhered with our recommended Mapei S997 1K product. If alternative un-recommended adhesives are used, from experience, sometimes these products can react with the backing material and cause problems.
When using a hot or cold hydraulic panel press to bond the Stone-Veneer® to a substrate it is recommended you use a soft "buffer" sheet (such as a thin rubber sheet) on the Stone-Veneer® because of the natural 3-Dimensional surface variances.
Care, Handling and Cleaning Guidelines for Richter REVOslate
Care and Handling
Richter REVOslate is a real and natural slate product and it is as porous as any natural slate would be. The slate may absorb the oils found on your hands and fingers. Follow the cleaning instructions to remove any smudges. Wearing gloves when handling these materials will minimize the amount of cleaning required.
Cleaning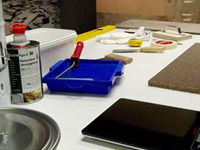 Any impurities splashed or spilled on the Richter REVOslate should be removed as soon as possible. In doing so warm water and a lightly moistened lint free cloth often suffices.
If the impurity or stain is not easily removed we recommend washing the surface with a soft lint free cloth moistened with a mild dish washing liquid and warm water solution. Alternatively, Mapei Cleaner L should be used and it is advised that a test area is done first.
If you do use any additional cleaners, test them on an inconspicuous area first to make sure they will not adversely harm or stain the surface of the Richter REVOslate.
If the Richter REVOSlate is being used in any wet areas such as kitchen backsplashes, near a food preparation area or sink it does need to be sealed. Bacteria and everyday stains and dirt can accumulate in the slate's pores making it difficult to clean. The natural minerals present in your water can also accumulate in the stone's pores. This is most noticeable in bathroom applications and shower/bath areas.
There are a variety of stone sealers on the market today and when applied according to the manufacturer's recommendations will seal the pores on the Richter REVOslate surfaces. We have tested Tec™ EnsealantSB with very satisfactory results. It is a solvent based Stone Enhancer and Sealer.
Option 4 (2 Part Application)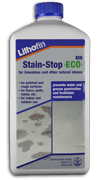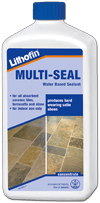 MN Stain Stop ECO + Multi Seal = Colour enhancement – SATIN finish. Application is 1 full saturation of MN Stain Stop Eco – soak up any excess and leave to dry.
Then apply 1 full saturation of Multi Seal – soak up any excess.
Coverage is approx 10 square meters per litre on each application.
Available in 1 litre and 5 litre tins.
Option 5
MN Slate Seal = Colour enhancement – GLOSS finish.Application is 1 full saturation – soak up any excess. Coverage is approx. 10 square meters per litre
Available in 1 litre and 5 litre tins.
PLEASE NOTE :
Only MN Stainstop ECO, MN Stainstop & MN Colour intensifier are suitable for use in wet areas.
For technical data sheets on all the above products, please visit Lithofins website.